The Toronto Raptors are riding a three-game losing streak heading into their matchup with the Chicago Bulls.
One of the biggest differences in the team's recent skid has been the play of their star forward Pascal Siakam, who struggled last week after getting out to an MVP-calibre start to the season.
Siakam averaged 18.3 points, 9.3 rebounds and 1.7 assists over the team's three losses, but shot an uncharacteristic 38.9% from the field and 14.3% from 3-point range, struggling to consistently create on offence.
In hopes that he and the Raptors can turn things around against the Bulls, we'll provide you updates with the first edition of our "Siakam tracker", covering each of the reigning Most Improved Player of the Year's stints in tonight's contest.
Follow along with us for all things Pascal Siakam in Raptors versus Bulls!
Toronto Raptors at Chicago Bulls
PREVIEW | BOX SCORE | PLAY-BY-PLAY
Halftime: Bulls 51, Raptors 49
The Raptors struggled to come up with stops in the first half as the Bulls lead by two points heading into the break.
Pascal Siakam had a strong first quarter but didn't attempt a shot in the second frame. He has 13 points, four rebounds and one assist shooting 5-for-10 from the field, 2-for-5 from 3-point range and 1-for-2 from the free throw line. In 18 minutes of playing time, he had a +/- of minus-four, the worst mark on the team.
As you can see on his first half shot chart, he's struggling on straight-away looks at the basket in this one while doing most of his damage going to his left.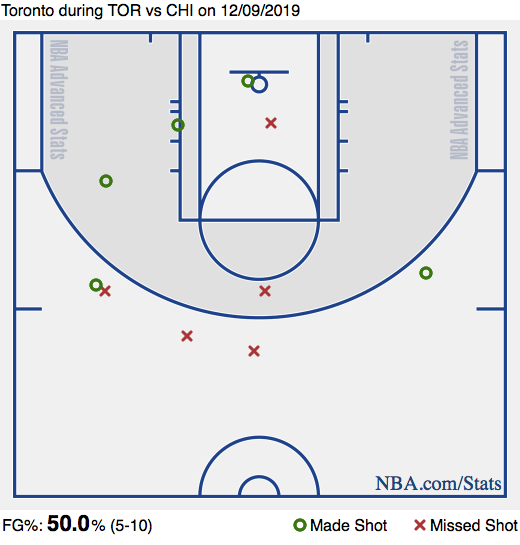 Pascal Siakam was orchestrating the offence when Kyle Lowry was on the bench and his gravity gave him a hockey assist on this Chris Boucher 3-pointer!
.@chrisboucher always ready to fire 🎯 pic.twitter.com/Xl4c2SiH5F

– Toronto Raptors (@Raptors) December 10, 2019
Pascal Siakam just picked up his first turnover of the game, trying to post up Zach LaVine. He took one too many steps trying to put a move on the smaller guard and was called for a travel.
Pascal Siakam checks back into the game after spending the first 6:41 of the quarter on the bench. The Raptors were plus-two during that stretch, leading the Bulls 38-36. Serge Ibaka is making a massive impact with four points and 10 rebounds in eight minutes off the bench.
End of first quarter: Raptors 30, Bulls 30
Pascal Siakam talked about playing more aggressively and he backed that up with his first quarter performance. He took 10 shots in the first quarter – more than double any other player on his team. He had 13 points, three rebounds and one assist while shooting 5-for-10 from the field, 2-for-5 from 3-point land and 1-for-2 from the free throw line. Siakam finished the frame an even zero +/-, playing all 12 minutes of the quarter.
Head coach Nick Nurse has gone to a Pascal Siakam and bench unit – it's Siakam, Terence Davis, Malcolm Miller, Serge Ibaka and Rondae Hollis-Jefferson.
Another 3-ball for Pascal Siakam! He has 13 of the Raptors' 26 points and is taking over this game early on the offensive end. The Bulls are also scoring with ease with 16 points in the paint, leading to a tight contest at 26-24 Toronto.
Impeccable ball movement pic.twitter.com/NBmc0h45eo

– Toronto Raptors (@Raptors) December 10, 2019
Pascal Siakam is off to a red-hot start. He has nine points shooting 4-for-6 from the field and 1-for-3 from 3-point range with three rebounds to get the Raptors' offence going. They lead 16-15 midway through the first frame.
Quick pass … Splash pic.twitter.com/nmKszRY7td

– Toronto Raptors (@Raptors) December 10, 2019
Pascal Siakam has the first four points on the board for the Raptors. He buried a pull-up jumper off the dribble from just outside the left elbow and finished an easy bucket at the rim in transition on a pass from Norman Powell.
Pregame
As expected, Norman Powell will take Fred VanVleet's spot in the starting lineup.
Tonight's @Invisalign starting lineup. #WeTheNorth pic.twitter.com/eIviMgd6TM

– Toronto Raptors (@Raptors) December 10, 2019
Head coach Nick Nurse addressed – and dismissed – Pascal Siakam's "slump" during pregame media availability.
Nurse cont: "…He's getting plenty of opportunities, he's a young guy, he's gonna have some ups and downs. He's having a hell of a season. Let's calm down." (2/2) Good stuff.

– Blake Murphy (@BlakeMurphyODC) December 9, 2019