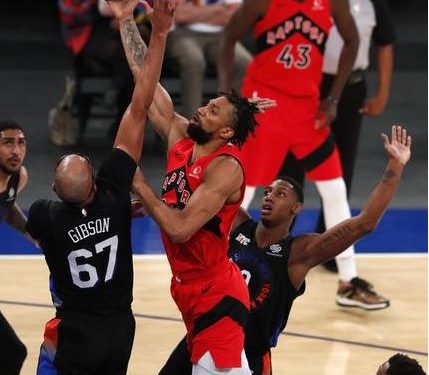 The High 5 – Week in Review – Week 18
The High 5 is where I review the last week of Toronto Raptors basketball including how the team did, who were the impact players as well as some news and notes from around the league.
The Thumb – How was the week?
The week started on a positive note when the Raptors announced that fan favourite, Yuta Watanabe, earned himself a standard NBA contract. This keeps him with the team for the rest of this year and beyond. A few days later, a video surfaced from practice showing Rookie Malachi Flynn and newcomer Freddie Gillespie serenading the team to the sounds of "Party in the USA" by Miley Cyrus.
But if all that positivity was the appetizer, the main course was the Toronto vs New York storyline. Toronto did the necessary against Brooklyn by taking out the Nets in decisive fashion. Although they played well on Saturday, they ran into a buzzsaw in Julius Randle and the surging Knicks who snuffed out their win streak.
Though Toronto's fate may already be sealed, players are at least having fun again which makes the games infinitely better to watch.
With a little luck, fortunes may change, but Toronto is most certainly running out of time.
Week Record (1 – 1) Season Record (25 – 35)
Brooklyn Nets v Toronto Raptors – W 114 – 103
The Raptors had all their bodies back for this marquee matchup. Chemistry and timing was off but Coach Nurse suddenly felt spoiled with so many options. Despite missing players, the Nets have been rolling, largely because of the omnipresence of Kyrie Irving. He was a savant on the floor getting nearly anything he wanted. He had Toronto chasing throughout the first half, but the Raps managed to cut to lead to 2 by the break. They caught fire and lit up the Nets in the third and though Brooklyn pushed them, Toronto held their lead.
Toronto Raptors v New York Knicks – L 120 – 103
The Raptors strolled into the Mecca of basketball to take on the New York Knicks, winners of 8 straight. The Knicks were red hot, but the Raps have been simmering at a raising temperature. Despite the early start, both teams were locked in giving the game a playoff feel. The stars were in fine form with primary players earning signature moments and making high calibre plays. In the end, the Knicks showed how much they've grown by exploding past Toronto down the stretch. The hot stay hot.
The Index – The Leader – Player of the Week
Pascal Siakam
Siakam has been in All Star form for weeks. He now regularly scores in the high 20's with an impressive compliment of boards and dimes to boot. Pascal has shown obvious growth in the playmaking department through his evolving creativity and athleticism. His 3-point shot is finally coming around and he seems to have found comfort running with, instead of ahead, of the pack. He could still improve in late game situations, but no one ever said he was a finished product. Pascal can change the narrative of a down year with a few good weeks to end the season.
 
Points
Rebounds
Assists
Steals
Blocks
FG
3PT
FT
v BKN
27
9
6
2
0
10/19
2/5
5/6
v NYK
26
7
5
1
0
8/19
5/9
5/6
Weekly Avg
26.5
8
5.5
1.5
0
18/38
7/14
10/12
2 Games
 
 
 
 
 
47%
50%
83%
 

Season Avg

21
7.2
4.7
1.1
0.7
45%
30%
84%
Honourable Mention: F. VanVleet
The Middle – The Enemy – Best Opposing Player
Julius Randle – New York Knicks
Although Brooklyn's Kyrie Irving put on a masterclass in game management, his team did not come away with the win, which means that New York's Julius Randle picks up the honour. Julius was a fierce, uncompromising big man that forced his will onto the Raptors with the delicacy of a bulldozer. Trying to contain Randle in the paint is like trying to coddle a shark. His demand for attention allowed others go off for strong games. Toronto simply did not have the physicality to stop the new King of New York.
| | | | | | | | | |
| --- | --- | --- | --- | --- | --- | --- | --- | --- |
|   | Points | Rebounds | Assists | Steals | Blocks | FG | 3PT | FT |
| v TOR | 31 | 10 | 1 | 0 | 0 | 10/17 | 5/7 | 6/8 |
Honourable Mention: K. Irving (BKN), B. Brown (BKN), R. Barrett (NYK), D. Rose (NYK)
The Ring – The X Factor – Standout Performance
Freddie Gillespie v Brooklyn Nets
Toronto suffered a big loss when Boucher went down to injury against the Nets, but this opened the door for Freddie Gillespie to have his best defensive game to date. Freddie held a 1-man block party and invited the entire Brooklyn squad. He swatted 5 shots while deflecting and deterring many others. Freddie showed great instincts and quick reactions. His speed was impressive considering his size. Efforts like this are what will keep him in the league.
| | | | | | | | | |
| --- | --- | --- | --- | --- | --- | --- | --- | --- |
|   | Points | Rebounds | Assists | Steals | Blocks | FG | 3PT | FT |
| v BKN | 4 | 5 | 1 | 1 | 5 | 1/4 | 0/0 | 2/2 |
Honourable Mention: F. VanVleet v NYK
The Pinky – The Unsung Hero – Key Contributor
OG Anunoby
Out of Toronto's core players, OG receives the least amount of attention, even though he has shown the most development. It is not an understatement to say he is one of the leagues best defenders. That's a given. However, his offensive game has advanced by leaps and bounds. He protects the ball well and has improved on his balance when attacking. His spot up corner jumper is as reliable as any shot on the team. OG is good to give you crooked numbers along the stat sheet on any night.
Honourable Mention: F. VanVleet, K. Lowry                            
News and Notes               
Lowry – Acadia University will honour Kyle Lowry with a doctorate in Humanities. This is mainly off his charitable work in Toronto and Philadelphia through his Lowry Love Foundation. Credit is also given for the way he was able to rally the nation to their first NBA championship in 2019.
Give her flowers – As much as Kyle deserves his honour he would not be anywhere if not for his wife, Ayahna Cornish-Lowry. She has been with him throughout every step of the way.
Around the League
Miami nights – Houston guard Sterling Brown was assaulted on Sunday night in Miami suffering minor wounds. Not many details are known about this incident but stories like this don't happen often. Unless you are Sterling Brown. Back in January of 2018, Brown was involved in an incident involving Milwaukee police that ended with him being falsely arrested and tased.
Mamba out? – Nike and the estate of Kobe Bryant did not renew their long-standing contract. This news upset fans everywhere. Does this mean the end of the Kobe shoe legacy? Or will this perhaps open the door for his name to live on in a "Mamba" line?
Modern day legend – Chris Paul now sits in 5th place in the NBA all time career assists list. He jumped over the great Magic Johnson and is less than 200 away from Mark Jackson and Steve Nash. 3rd place is in reach.
Up Next
After a quiet week, the schedule turns again giving Toronto 5 games. Monday night sees them in action against the Cavs in Tampa. Tuesday, Brooklyn looks for their revenge. From there, the Raptors embark on a Western road trip that puts them through the gauntlet starting with Denver on Thursday. On Saturday, they face the Western Conference leading Utah Jazz before they finish their week on Sunday night in the City of Angels against the Lakers.
**Editors note: Due to the late Sunday night game, next week's HIGH 5 may have a Monday release date. ***