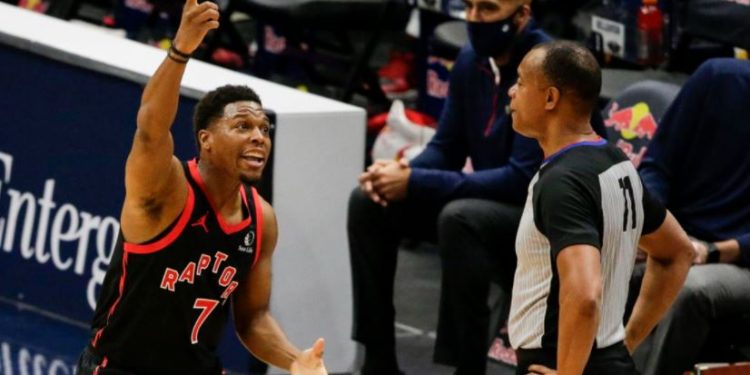 The High 5 – Week in Review – Week 2
The High 5 is where I review the last week of Toronto Raptors basketball including how the team did, who were the impact players as well as some news and notes from around the league.
The Thumb – How was the week?
After a lackluster start to the season, the Raptors were looking for answers. The issue wasn't so much that they lost but rather how they lost. In both defeats, their efforts tapered, and they fell apart down the stretch. Aside from Lowry, Toronto has been playing flat, uninspired basketball.
There is a litany of things they can improve on but in short, they need to play with more pride. This is a well coached team with championship pedigree, proven players, and a culture of winning. What they are giving has not been good enough.
This week offered Toronto a chance to get back to the Raptors basketball we have come to expect.
Week Record (1-2) Season Record (1-4)
Toronto Raptors v Philadelphia 76ers – L 100 – 93
With reliable players struggling, Coach Nurse tinkered with his lineup against Philly on Tuesday. The starters remained the same, but he gave some burn to rarely used Stanley Johnson and Alex Len. Like the first two games, Toronto's offense clicked early. They shared the ball and played stingy D which kept the 6ixers off balance. In the second half, Philly turned up the aggression and forced their way to the line. Toronto fought back with scorching 3-point shooting. Kyle was excellent and OG had a breakout night. However, Embiid was an absolute monster. He went to work and overwhelmed the Raptors, taking over the game in the process. Joel was the difference; he humbled Toronto with another loss.
New York Knicks v Toronto Raptors – W 100 – 83
After 3 straight defeats, the Raptors were desperate for a win. To make matters worse, Siakam received a 1 game suspension for 'disciplinary reasons' prompting Powell to get the start. Stop me if you heard this, but the Raptors started off strong only to see their lead whittled away by halftime. The roster wheel was spinning giving minutes to the likes of Terrence Davis, Stanley Johnson and even Yuta Watanabe. It was the same old story until Toronto rallied in the second half and actually managed to build a comfortable lead. They received a surprising boost from Alex Len, and their trio of guards, Lowry, Powell and VanVleet, all had strong performances. Toronto finally picked up a win on the last day of the year.
Toronto Raptors v New Orleans Pelicans –  L 120 – 116
The Pelicans served Toronto a slice of humble pie in the opening night of the season. The Raptors, motivated to avenge that loss, wore their black statement jerseys and welcomed Siakam back into the lineup. The Pelicans were sparked by Brandon Ingram; he has supplanted Williamson as their most important player. Toronto countered off the determined play of VanVleet, Boucher and Powell. In the fourth, Toronto's composure was tested when Lowry picked up a technical and Siakam fouled out after scoring only 10 points. They played strong down the stretch, but it wasn't enough. The Raptors end their week with another frustrating loss.
The Index – The Leader – Player of the Week
Fred VanVleet
VanVleet had a pedestrian game against Philly but he followed that up with two elite performances. He has been hunting his shot, creating opportunities and is quietly rounding into form. Fred played heavy minutes this week but looks to have found his scoring touch while also putting in impressive work on the glass. The Raptors will lean on VanVleet until Siakam picks up his game.
 
Points
Rebounds
Assists
Steals
Blocks
FG
3PT
FT
v 76ers
8
6
6
1
2
3/12
2/8
0/0
v Knicks
25
5
7
1
1
9/19
4/9
3/3
v Pelicans
27
8
5
1
1
9/23
4/13
5/5
Weekly Avg
20
6.3
6
1
1.3
21/54
10/30
8/8
3 games
 
 
 
 
 
38%
33%
100%
 

Season Avg

19.2
5
6
1.4
0.8
39.5%
34%
84.6%
Honourable Mention: K. Lowry
The Middle – The Enemy – Best Opposing Player
Joel Embiid – Philadelphia 76ers
Joel was in beast mode, feasting on a Marc Gasol-less Raptors team on Tuesday night. Anytime he touched the ball, he commanded an immediate double team. He was a Goliath in the paint, Raptor defenders bounced off him like pebbles crashing against a mountain. He owned the glass with a game high in rebounds and took more foul shots than the entire Raptors team. Domination.
| | | | | | | | | |
| --- | --- | --- | --- | --- | --- | --- | --- | --- |
|   | Points | Rebounds | Assists | Steals | Blocks | FG | 3PT | FT |
| v TOR | 29 | 16 | 4 | 2 | 2 | 7/17 | 1/6 | 14/16 |
Honourable Mention: B. Ingram (NO), T. Harris (PHI)
The Ring – The X Factor – Standout Performance
Chris Boucher v New Orleans
Boucher has been one of the few bright spots for the Raptors this season. He had his best game of the year against the Pelicans by picking up the slack left by a disjointed Siakam. Chris did everything asked of him with energy and determination. He played multiple positions and used his basketball instincts and remarkable athleticism to impact the game. Playing this way will earn the young Canadian minutes.
| | | | | | | | | |
| --- | --- | --- | --- | --- | --- | --- | --- | --- |
|   | Points | Rebounds | Assists | Steals | Blocks | FG | 3PT | FT |
| v Pelicans | 24 | 5 | 1 | 1 | 2 | 7/13 | 1/4 | 9/9 |
Honourable Mention: O. Anunoby v PHI, A. Len v NYK      
The Pinky – The Unsung Hero – Key Contributor
Kyle Lowry
Kyle has easily been Toronto's most consistent player. While the team remains mired in questions, Lowry is the one constant. His leadership is a sight to behold, his numbers are decent and his determination may be the one thing that has kept the Raptors from completely falling apart. Kyle has battled like a warrior; he needs more soldiers to fight by his side.
Honourable Mention: O. Anunoby
News and Notes
Boiling Over – The normally relaxed Siakam let his frustrations get the better of him on Tuesday night. After picking up his 6th foul, he left the court before the end of the game earning the ire of Coach Nurse. The young forward is feeling the pressures of carrying a franchise.
Free Points – The Raptors need to find a way to keep teams off the foul line. They gave up 19 more free throw attempts to the 76ers and 20 more to the Pelicans. Ouch.
Passing Glory – After moving past Larry Bird, Kyle Lowry is now chasing Dwayne Wade for 41st on the all-time career assists lists.
Around the League
No Limits – The odd couple of Baron Davis and Master P have joined forces in an attempt to own and revive Reebok. This could be the right time for the once popular sporting goods company to make a comeback.
Just Fine – Utah's Jordan Clarkson, Dallas' James Johnson, and Charlotte's Cody and Caleb Martin paid a combined $110 000 in fines this week for their unruly court behaviour.
Still Gunning – Portland's Carmelo Anthony is still climbing the scoring ranks; he jumped the great Tim Duncan to become 14th on the all-time list.
Up Next
The Raptors get no reprieve this week with 4 games on the schedule. Up first is a tough matchup against the Celtics on Monday. It is crazy to think how narrow the gap was between these two teams only a few months ago. Now that gap feels as wide as an ocean. From there they face the Chris Paul led Suns in Phoenix on Wednesday. They then travel to Sacramento to take on De'Aaron 'Star' Fox and the Kings on Friday night. Finally, their week ends with a Sunday night game against Steph Curry and the once mighty Golden State Warriors.