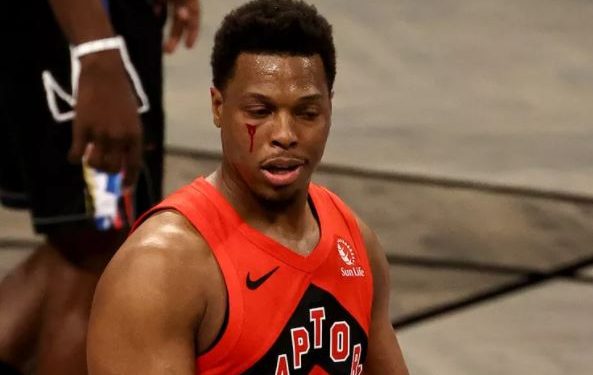 The High 5 – Week in Review – Week 7
The High 5 is where I review the last week of Toronto Raptors basketball including how the team did, who were the impact players as well as some news and notes from around the league.
The Thumb – How was the week?
The Raptors embarked on a difficult road trip that took them away from "home" for 9 of their next 10 games. In reality, every game is a road game, so this isn't anything different for Coach Nurse and his squad. Some teams find camaraderie during long road trips, if that's true, it's safe to assume that the Raptors will be best of friends by the end of the season.
Against decent competition, Toronto needed someone to step up and, out of two of their 3 games, they got outstanding performances from their heavy hitters. Siakam dominated against the Nets, Lowry battled like a prizefighter and VanVleet showed how hot he could truly get.
Week Record (2 –1) Season Record (10 –13)
Toronto Raptors v Orlando Magic – W 123 – 108
The Raptors and Magic renewed pleasantries in their Tuesday night revenge game. Toronto earned Orlando's ire when they not only picked up the win, but also forced Aaron Gordon to the injured list. Orlando and Toronto traded leads early. At times, Toronto's defense was on a string and with each turnover, their confidence grew. But then their offense would sputter, allowing the Magic to regain control. This game was ultimately decided by 1 man. Fred VanVleet. He went supernova from 3 in a shooting clinic that would make Reggie Miller blush. The Magic could never recover.
Toronto Raptors v Brooklyn Nets – W 123 – 117
The Raptors thought they dodged a bullet when Durant was pulled minutes before tip. Even without him, Brooklyn had two more flamethrowers in Irving and Harden who could easily burn any confidence that Toronto may have built. The Raps jumped on the Nets early, but then Durant magically appeared and was suddenly on the floor. But then he wasn't? In truth, it was confusing what was happening in real time. Aside from the dramatics it was still a heated, competitive, game of the year candidate. The Raps fought like champions, they left their blood and sweat on the floor (literally) and earned a massive win.
Toronto Raptors v Atlanta Hawks – L 132 – 121
The Raptors rolled into Atlanta on the second night of their back-to-back to take on the improving Hawks. Toronto's offense has looked much better, but it was obvious they were playing on heavy legs. A lot of their shots came at the end of the shot clock and in rushed situations. Credit to the Hawks, they attacked in waves and flooded the paint on D. Toronto's heart was in it, but their bodies betrayed them. They were missing that little extra umpf, and despite getting a career night out of Chris Boucher, they ate the loss.
The Index – The Leader – Player of the Week
Fred VanVleet
Wichita State's finest had himself a game for the ages on Tuesday night. One that will live in Raptors lore forever. And though he struggled in Brooklyn, he still hit a dagger 3 (his only one) to solidify the win. Even in the loss, he picked up a double-double and nearly outdueled his All-Star counterpart. VanVleet has supplanted Siakam as Toronto's primary scorer, and for the smallest guy on the team, he has no problem carrying the load.
 
Points
Rebounds
Assists
Steals
Blocks
FG
3PT
FT
v ORL
54
3
2
3
3
17/23
11/14
9/9
v BKN
11
4
4
2
2
4/16
1/9
2/2
v ATL
25
6
10
2
0
6/18
3/7
10/11
Weekly Avg
30
4.3
5.3
2.3
1.6
27/57
15/30
21/22
3 Games
 
 
 
 
 
47%
50%
95%
 

Season Avg

20.2
4.4
6.3
1.8
0.7
41%
37%
89%
Honourable Mention: K. Lowry
The Middle – The Enemy – Best Opposing Player
Trae Young & Clint Capela – Atlanta Hawks
Both Atlanta players get the nod this week because it was too difficult to ascertain who had the better game. Trae was slippery off the ball; simply untrappable. He slithered his way through double teams and did damage from the line. He found ways to set up his teammates for easy scoring opportunities, including the hulking Clint Capela. Capela dominated the glass, shot at an uber efficient rate while also being a mammoth on defense.
| | | | | | | | | |
| --- | --- | --- | --- | --- | --- | --- | --- | --- |
| Young | Points | Rebounds | Assists | Steals | Blocks | FG | 3PT | FT |
| v TOR | 28 | 2 | 13 | 0 | 2 | 6/15 | 2/4 | 14/14 |
| Capela | Points | Rebounds | Assists | Steals | Blocks | FG | 3PT | FT |
| v TOR | 23 | 16 | 0 | 0 | 4 | 10/13 | 0/0 | 3/5 |
Honourable Mention: N. Vucevic (ORL)
The Ring – The X Factor – Standout Performance
Fred VanVleet v Orlando Magic
Boucher gets a lot of love for his incredible night, but could it really be anyone else? VanVleet was on God mode, he blew his career high out of the water, setting a Raptors scoring record in the process. Fred was perfect from the line, a thief on defense and repeatedly shot the smoothest daggers into the heart of the Magic. He was the rainmaker. This will forever be known as the Fred VanVleet game.
| | | | | | | | | |
| --- | --- | --- | --- | --- | --- | --- | --- | --- |
|   | Points | Rebounds | Assists | Steals | Blocks | FG | 3PT | FT |
| v ORL | 54 | 3 | 2 | 3 | 3 | 17/23 | 11/14 | 9/9 |
Honourable Mention: Boucher v ATL, Siakam v. BKN
The Pinky – The Unsung Hero – Key Contributor
Norm Powell
Bench Norm may be a solid reserve, but Starter Norm is proving to be a solid asset. Powell has been the perfect tertiary scorer. He knows his role and puts himself in positions to capitalize, which is usually somewhere in the corners. He has learned to attack close outs and he is one of Toronto's better players at getting to the rim. Powell is turning into a certified bucket.
Honourable Mention: K. Lowry, C. Boucher, D. Bembry
News and Notes
Bet on Yourself – If you look up "hard work" in the dictionary, you will see a picture of Fred VanVleet. His historic 54-point outburst surpassed the legendary Moses Malone for total points scored in a game by an undrafted player.
The Man behind the Man – Toronto did a bit of business by locking up GM Bobby Webster to a multi year extension. If the High 5 included executives, Webster would be a permanent fixture in the unsung hero category. His work behind the scenes cannot be understated, he is an integral part of the franchise. Up next, Masai!
Around the League
Fall Stars – For some reason, the NBA is still considering an All-Star game in Atlanta on March 7. I am all for naming All-Stars, but a game seems woefully ignorant and risky. Some of the leagues biggest names have voiced their concerns with this decision but, for now, the game will go on.
Debacle – Brooklyn's Kevin Durant was treated like a yo-yo in his game against Toronto when the league fumbled its Health and Safety protocols. While the extent of his COVID exposure was being determined, Durant was allowed to play before suddenly being removed from the game for the "safety of the players". Along with the way the All-Star game is being managed, examples like this only serve to weaken confidence in the system.  
Family Love – San Antonio's DeMar DeRozan wore a beautiful pair of Kobe's designed by his daughters on Saturday night. No news here, just wanted to share a positive story.
Up Next
It's another busy week for the Raps as they take on a mixed bag of opponents. First up is Ja Morant and the Memphis Grizzlies on Monday. On Wednesday, they will face Bradley Beal and the embarrassing Wizards in Washington before flying to Boston to take on the tough Celtics the very next night. Finally, their week ends with a Sunday night game against the Timberwolves in Tampa.