Toronto Raptors president Masai Ujiri said last month that re-signing guard Fred VanVleet was a "big-time priority"; head coach Nick Nurse said that he would be "pretty surprised" if the Wichita State product left the Raptors in free agency.
In the scenario where Toronto re-signs VanVleet, which could cost in excess of $20 million a season, the pressing question becomes how do they build a sustainable championship contender? The good news it that they already have the tools to do so.
VanVleet has gradually grown from a skill set, performance, and production standpoint over his four-year NBA career. He went from a reserve in his first two seasons, to playing high minutes on their 2019 championship team, to becoming one of the driving forces of the organization.
Fred VanVleet does a little of bit everything. Offensively, he's a high-level and efficient shooter who takes what the defense gives him off the dribble. Moreover, he's a steady ball handler. Defensively, he does a plausible job defending his man and guarding the perimeter.
In the strange 2019-20 NBA season, he averaged 17.6 points, 6.6 assists, and 1.9 steals per game while shooting 39.0 percent from beyond the arc. Across the Raptors' 11 playoff games, VanVleet averaged 19.6 points, 6.9 assists, and 1.6 steals per game while shooting 39.1 percent from beyond the arc.
They can't let him get away.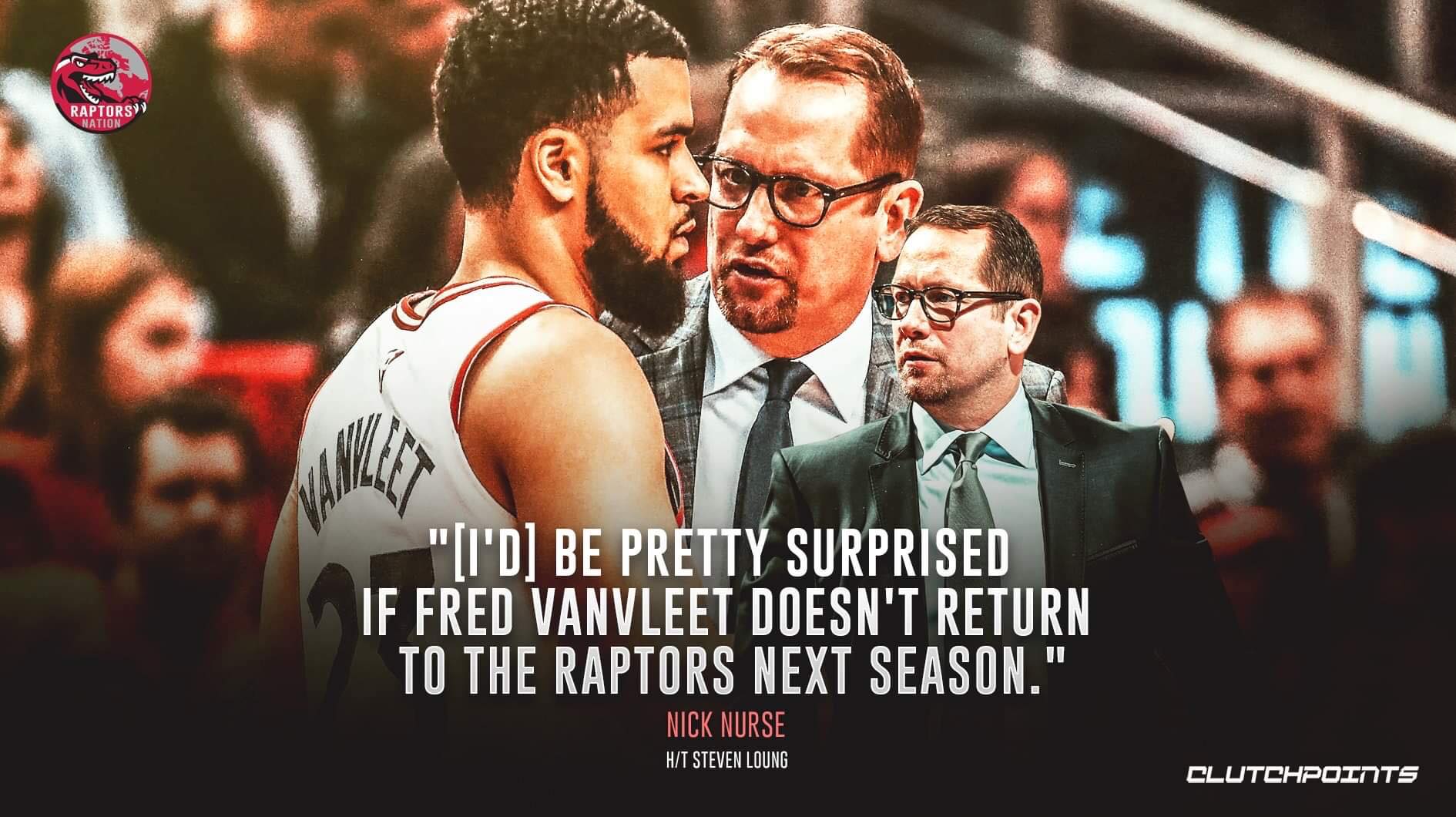 Toronto has roughly $19 million in cap space this offseason, a figure which includes big men Serge Ibaka and Marc Gasol coming off the books. While they're each proven two-way big men, the Raptors can replace them, which isn't in any way a knock on Ibaka and Gasol, rather a testament to the organization's recent success developing young players.
The Raptors have a knack for getting and keeping players on progressive career paths. VanVleet is a prefect example of their ability to do as such, as are other homegrown players like Pascal Siakam, Norman Powell, and OG Anunoby.
Siakam went from a mere rotation player in his first two seasons, to an indispensable piece to the Raptors' title run, to a premier frontline player — as he averaged 22.9 points per game in the regular season.
Powell went from an electric bench scorer to nearly doubling his scoring output, averaging 16.0 points per game this season. As for Anunoby, he went from a defensive specialist to a reliable and athletic "three-and-d" player, averaging 10.6 points per game and shooting 39.0 percent from beyond the arc this season.
The Raptors have two selections in next month's NBA Draft (29 and 59), allowing them to add fresh legs on the cheap for a few seasons, filling a couple roster spots in the process. Next season they have their own first-round pick, too.
Toronto's core was selected in the mid-to-late portion of the draft or went undrafted. Why can't one or both of their future draftees be developed into rotation fixtures? The Raptors have done it before and can do it again.
Next offseason Kyle Lowry ($30.5 million 2020-21 salary), Powell ($10.9 million 2020-21 salary with an $11.6 million player option for 2021-22), and Anunoby ($3.9 million 2020-21 salary) hit the open market. Toronto currently has just four players under some contractual agreement for the 2021-22 NBA season (Siakam, Dewan Hernandez, and Matt Thomas).
Of course, more players will be added to that list. The point is the Raptors have flexibility moving forward, allowing them to pony up the money deemed necessary to sign VanVleet, as a handful of teams are reportedly set to pursue his services.
Yes, one could argue that the Raptors could recreate Fred VanVleet or get his production from someone else. With that said, he has come so far and could go even further that it would be unwise to just not pay him. After all, you have to pay somebody to contend. A year ago they gave Siakam a monster four-year, $130 million extension. So far, so good on that front.
In all likelihood, Powell and Anunoby will fetch eight-figure salaries in free agency given their youth, the skill sets they bring to the table, and another team possibly valuing them a bit more than the Raptors.
The Raptors should be looking to keep the band together.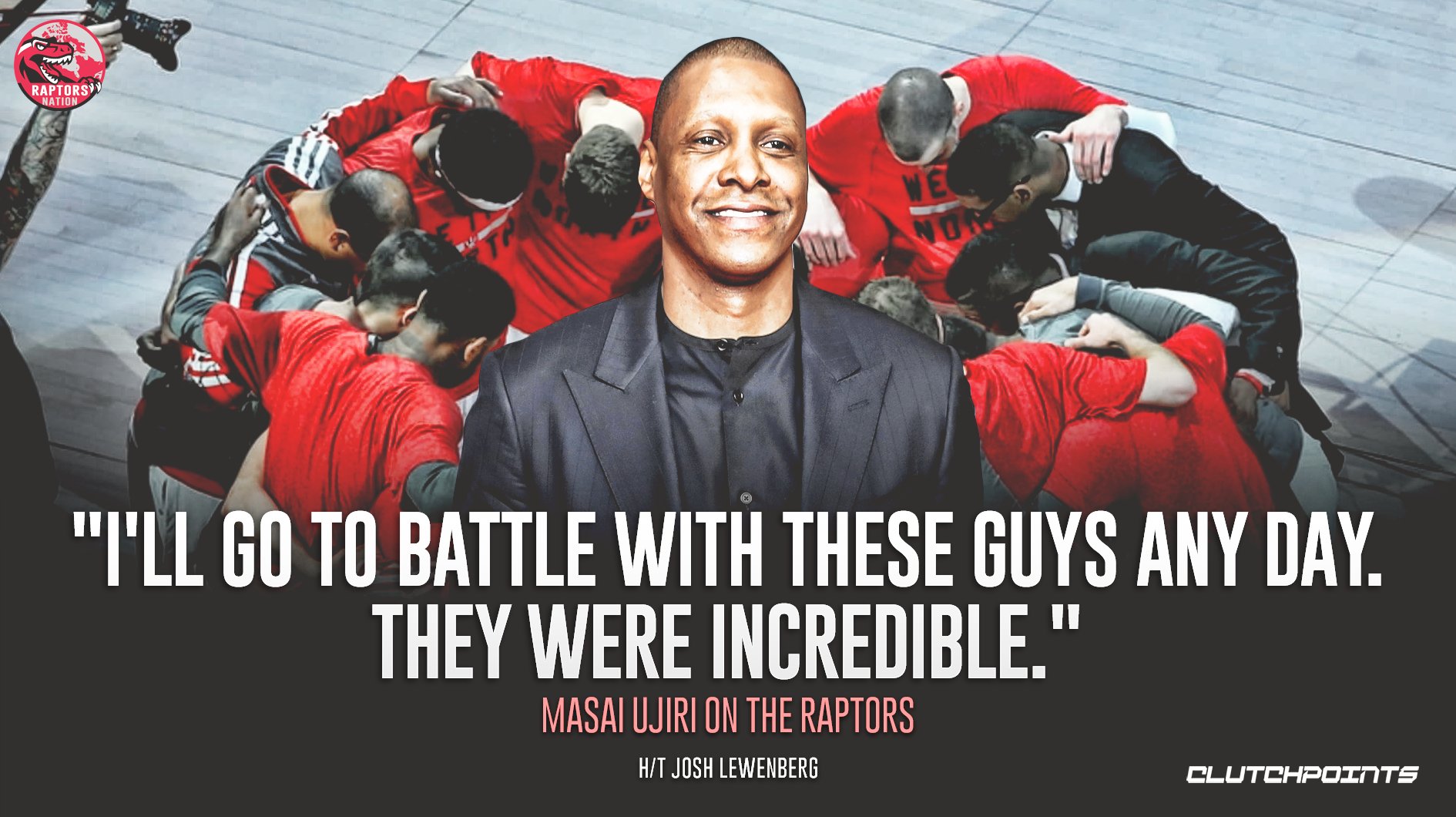 This is a core that once shared a bench for the majority of their team's games. Now they're the square focus of their team's offense and have the Raptors in the thick of the Eastern Conference playoff race moving forward.
Ujiri can assemble a roster with a healthy balance of youth and veterans. When you're a perennial contender with a reputation like the Raptors, you can get veteran players to sign up for a discount to pursue an NBA championship. Nurse and his coaching staff have done an exceptional job of building from within, rather than having to rely on Ujiri to bring in players from the outside.
Who would hypothetically replace VanVleet? Sure, maybe Powell becomes a 20-point per game scorer and Anuboby puts the ball on the floor a bit more, but where does the money go? As alluded to earlier, the Raptors have the payroll flexibility to keep their core together.
What's the benefit to signing someone to replace VanVleet? You're relying on that player to learn and/or run your offense. VanVleet, 26, has continuity with this team and can be the lead guard of the future. He, like Siakam, Powell, and Anunoby, can only get better. At some point, they'll all play into their future contracts — if they re-up with the Raptors over the next year.
No matter how rich the dollar bills get, the Raptors have the resources to remain a contender if they re-sign Fred VanVleet.