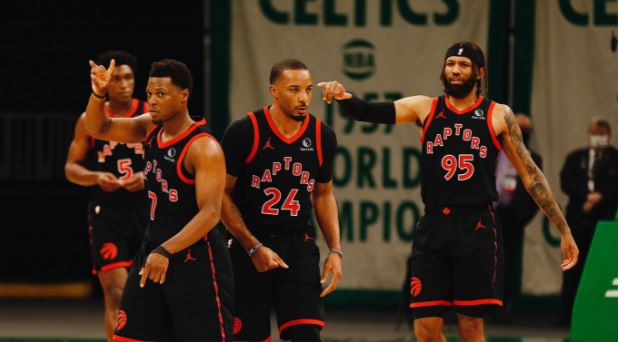 The High 5 – Week in Review – Week 11
The High 5 is where I review the last week of Toronto Raptors basketball including how the team did, who were the impact players as well as some news and notes from around the league.
The Thumb – How was the week?
When covering the rigors of the season, it's best not to get too high on the highs or too low on the lows. However, that says nothing about the anxiety, stress, frustration, or jubilation that may be felt in between. With the virus adding another unknown variable in the mix, its hard to predict what will come from week to week.
It was a surprise to many that the Raptors continued playing in spite of having a decimated roster. Then again, the NBA has been consistent with its intentions to get in as many games as possible, risks be damned.
Toronto rolled over in their first game but showed some fight in the second. Unfortunately, neither effort was enough to get the job done. The only positive was that with so many absences, Toronto's coaching staff (what's left of it) got a better look at their deep roster players and some of their Raptors905 call ups.
Toronto desperately needed this break to regroup for the second half.
Week Record (0 – 2) Season Record (17 – 19)
Detroit Pistons v Toronto Raptors – L 129 – 105
With so many missing parts, Toronto started their most improbable lineup of the season, one which included Watanabe. Detroit is having a down year; they were also missing bodies and they don't have a player like Lowry who can elevate teammates simply through osmosis. The wheels fell off early when Detroit caught lightning in a bottle. They blitzed Toronto and outhustled them to every loose ball. Toronto wasn't down because of a lack of talent; this was a matter of effort. Even shorthanded, this was a winnable game. Raptors let one get away. Ugh.
Toronto Raptors v Boston Celtics – L 132 – 125
The cards were stacked against the Raps on Thursday night in Boston. They were shorthanded, on a back-to-back and in the home of a fierce rival. Lowry picked up a double-double, Powell paced Toronto's scoring and Boucher and Davis chipped in off the bench. The Raptors played with much more effort and pushed Boston even in the face of defeat. The Celtics had their number all season and with Toronto missing their big guns, this game was no different.
The Index – The Leader – Player of the Week
Norm Powell
In a season of rocky waters, Powell has shined like a lighthouse in the dark. His jumper has never looked better and he has added wrinkles to his drives which makes scoring for him look effortless. Norm is playing for a contract and proving his value with each passing game. His light is so brilliant, that it can only lead to a brighter future.
 
Points
Rebounds
Assists
Steals
Blocks
FG
3PT
FT
v Pistons
36
5
1
1
0
14/20
5/8
3/3
v Celtics
25
2
4
2
0
7/17
4/10
7/8
Weekly Avg
30.5
3.5
2.5
1.5
0
21/37
9/18
10/11
2 Games
 
 
 
 
 
57%
50%
91%
 

Season Avg

18.4
3
1.7
1.2
0.1
49%
44%
90%
Honourable Mention: K Lowry
The Middle – The Enemy – Best Opposing Player
The Detroit Pistons –Dennis Smith Jr, Mason Plumlee, Wayne Ellington
Detroit took advantage of a flat Raptors squad with outstanding games from a handful of Pistons. It was too difficult to determine who the best opposing player was. Allowing any of the above-mentioned players go off for the numbers they did should be considered a source of shame. Two others scored 20 off the bench. Burn the game tape.
| | | | | | | | | |
| --- | --- | --- | --- | --- | --- | --- | --- | --- |
|   | Points | Rebounds | Assists | Steals | Blocks | FG | 3PT | FT |
| Plumlee v TOR | 14 | 11 | 10 | 1 | 1 | 6/12 | 0/0 | 2/5 |
| Smith Jr v TOR | 10 | 12 | 11 | 3 | 0 | 3/9 | 2/5 | 2/2 |
| Ellington v TOR | 25 | 3 | 0 | 2 | 0 | 8/11 | 8/11 | 1/1 |
Honourable Mention: J. Tatum (BOS)
The Ring – The X Factor – Standout Performance
Chris Boucher v Boston Celtics
Boucher's play has tapered off over these last few weeks, bringing him back down to Earth after a scorching start to the season. But on the right day, with the right matchup, he can explode for a career night. Though he could have grabbed more boards, Boucher was a bucket off the bench, he led Toronto in scoring. His high release point makes his 3-point shot one of the most difficult to block, and when he is hitting like he was in Boston, watch out!
| | | | | | | | | |
| --- | --- | --- | --- | --- | --- | --- | --- | --- |
|   | Points | Rebounds | Assists | Steals | Blocks | FG | 3PT | FT |
|  v Celtics | 30 | 5 | 0 | 0 | 0 | 11/15 | 5/9 | 3/4 |
Honourable Mention: Lowry v Bos, Davis v Bos
The Pinky – The Unsung Hero – Key Contributor
Kyle Lowry
Lowry is doing his best to keep the good ship Raptors afloat but it's obvious he needs support. As one of the leagues elder statesmen, it would be understood if Lowry took a step back, but his competitive edge would never allow it. This was no more evident than his game against Boston where he picked up a career high 19 assists. KLOE deserves to be mentioned in the same breath as the LeBron's and CP3's of the world.
Honourable Mention: C. Boucher
Around the League
Pierced – In a surprising move, the struggling Atlanta Hawks fired their Coach, Lloyd Pierce. They now look to Nate McMillan to turn things around.
Current-cy – Dallas Mavericks owner Mark Cuban has announced that his team will accept Dogecoin as currency for tickets and merch. Cuban is a forward thinker; this may be another shrewd move that keeps him ahead of the curve.
What's good for the Goose – The NBA and Canada Goose has partnered together on a multi year deal to provide official outwear clothing for the league.
All Star Content
Brotherly Love – Philly Center, Joel Embiid, will donate his earnings at the All-Star game to homeless shelters in Philadelphia.
Canadian Invasion – 5 Canadians made this year's rookie – sophomore game proving what we here at North Pole Hoops have been saying for years; the future for Canada Basketball looks bright.
Fundamentals – Indiana big man and replacement All-Star, Domantas Sabonis came out of no where to take this years Skills Competition.
Sweetest Stroke – Golden State's Steph Curry reminded everyone who is the best shooter in the league is with an all too easy shooting performance.
The Dunkers Spot – Even though there were bigger names among the judging panel, the Dunk competition was still an impressive show. Portland's Anfernee Simons paid homage to former Raptor legend Tracy McGrady and walked away with this years top honours.
The Game – It was a ho-hum game played with a laissez-faire attitude. The talent was there but the intensity was not. There were still plethora of highlights sprinkled throughout. Team LeBron destroyed Team Durant. Milwaukee's Giannis Antetokounmpo was awarded with this years NBA All-Star Game Kobe Bryant MVP award.
Up Next
Toronto begins their 'second half' of the season at home against the Hawks on Thursday. On Saturday, they travel to Charlotte to take on the highly entertaining LaMelo Ball and the Hornets. They close out their week against the upstart Bulls on Sunday in Chicago.