Kevin Durant scored 32 points and James Harden added 31 to lead the visiting Brooklyn Nets to a 132-128 overtime win over the Atlanta Hawks on Wednesday.
Wednesday night's NBA results
Indiana Pacers 116-106 Charlotte Hornets
Detroit Pistons 107-122 Cleveland Cavaliers
Sacramento Kings 121-107 Orlando Magic
Brooklyn Nets 132-128 Atlanta Hawks (OT)
Denver Nuggets 109-82 Miami Heat
Los Angeles Lakers 106-107 Philadelphia 76ers
Milwaukee Bucks 115-108 Toronto Raptors
Boston Celtics 106-110 San Antonio Spurs
Washington Wizards 106-124 New Orleans Pelicans
Oklahoma City Thunder 102-97 Phoenix Suns
Dallas Mavericks 104-116 Utah Jazz
Minnesota Timberwolves 111-123 Golden State Warriors
Durant shot 13-for-26 from the field and had two key baskets in overtime, Harden made five 3-pointers and was 8-for-8 from the line, including a pair with 4.6 seconds left in OT to ice the game.
He also contributed 15 assists and eight rebounds, Kyrie Irving added 26 points and seven assists for Brooklyn.
The Nets have won three straight and seven of their past nine while victory in Atlanta was the first of their three games that have gone to overtime this season that they have won.
Atlanta got 28 points and 14 assists from Trae Young plus 24 points off the bench from Cam Reddish, who returned after missing Tuesday's game with a tight Achilles tendon.
John Collins and De'Andre Hunter both scored 21 as the Hawks lost in overtime for the first time this season
The Nets took the lead 116-114 in the fourth quarter when Harden drove and kicked the ball back to Jeff Green for an easy layup with 56.3 seconds remaining.
Atlanta tied it on a drive by Reddish with 28.6 seconds left before Harden missed a long 3-pointer with 4.8 seconds left that could have won the game.
The first half was close, with neither team able to pull away and having been tied at half-time Atlanta had its biggest lead at 90-83 after a 3-pointer by Danilo Gallinari with 11:23 left, but the Nets scored seven straight and tied the game 90-90.
The drama continued throughout until the Nets finally claimed the victory in a dramatic finale.
Sacramento Kings 121-107 Orlando Magic
Buddy Hield shot 7 of 12 from 3-point range en route to a game-high 29 points, and Sacramento held the host Orlando Magic to 41.7 per cent shooting from the floor in the Kings' 121-107 win.
With the win, Sacramento has its first winning streak since the first two games of the season.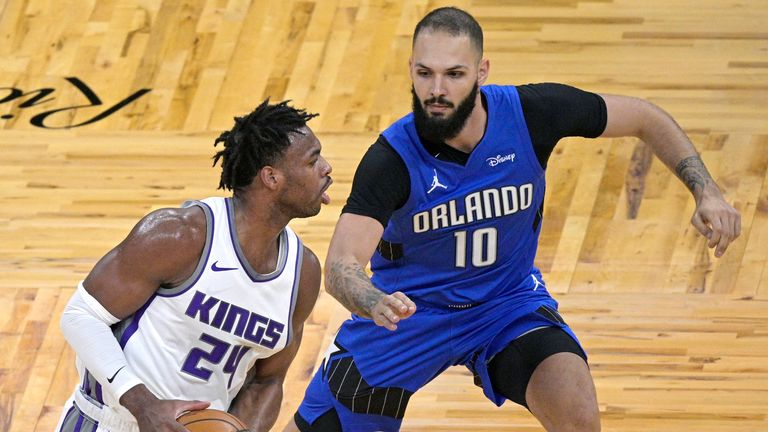 The Kings endured a four-game losing skid before beating the New York Knicks on January 25 and had lost six of their last seven.
Sacramento went on a 10-0 run just before halftime to build a lead that never again dipped below double digits and opened up to as many as 22 points in the third quarter and 20 in the fourth.
Orlando chipped away, cutting the deficit to 12 points with just under two minutes remaining and possession, but a De'Aaron Fox steal set up a Tyrese Haliburton dunk that effectively slammed the door on any Magic comeback hopes.
All five Kings starters scored in double figures, with Harrison Barnes and Richaun Holmes adding 21 and 20 points, respectively. Both shot 8 of 11 from the floor.
Holmes also grabbed 12 rebounds, matching Marvin Bagley III for team-high honours. Bagley scored 16 points, matching Fox's scoring total.
Just two Orlando starters scored in double digits: Nikola Vucevic with 26 points and Evan Fournier with 25. Terrence Ross and Dwayne Bacon came off the bench to score 16 and 12 points, respectively, while Khem Birch added eight points and a game-high 14 rebounds.
Denver Nuggets 109-82 Miami Heat
Nikola Jokic – who leads the NBA in double-doubles – had 21 points and 11 rebounds, leading the Denver Nuggets to a 109-82 win over hosts Miami Heat.
Denver outscored the Heat 50-28 in the paint, and the Nuggets held Miami to 37.5 per cent shooting.
Jokic, who has a double-double in each of Denver's 18 games this season, led the Nuggets to their fifth straight win and Jokic was joined in a double-double from JaMychal Green (15 points, 10 rebounds).
Michael Porter Jr., who joined Green as a reserve, added 17 points, five rebounds and four steals while Miami, led by Bam Adebayo's 15 points, seven rebounds and six assists, lost their fourth straight game.
The Heat also got 17 points from Kendrick Nunn, who made his first start of the season but the short-handed Heat were without three key players including five-time All-Star Jimmy Butler (COVID protocol), second-leading scorer Tyler Herro (neck) and 2018 All-Star Goran Dragic (groin).
Milwaukee Bucks 115-108 Toronto Raptors
Giannis Antetokounmpo scored 24 points, grabbed 18 rebounds and dished nine assists as the visiting Milwaukee Bucks defeated the Toronto Raptors 115-108 in Florida.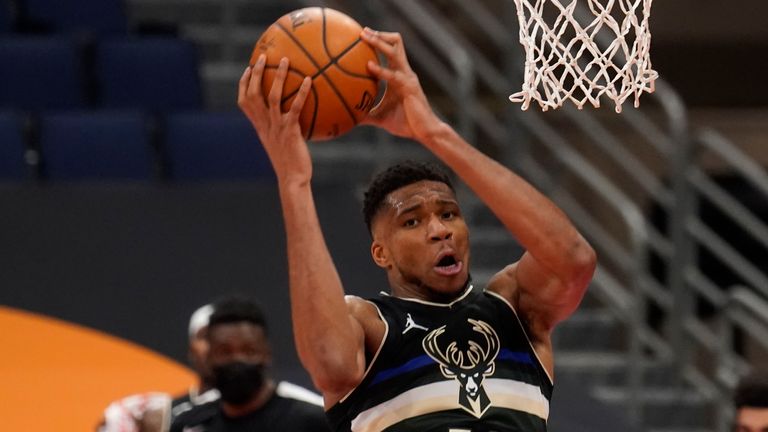 Khris Middleton added 24 points, 10 rebounds and seven assists for the Bucks. Brook Lopez had 20 points and Bryn Forbes had 11.
Norman Powell scored 26 points for the Raptors while Pascal Siakam, who missed the two previous games with left-knee swelling returned with 11 points.
Fred VanVleet (3-for-17 from field) had 10 points and 10 assists while Chris Boucher scored 10. Aron Baynes had 11 points before fouling out with 4:48 left in the fourth quarter.
Kyle Lowry entered the game needing two points to join DeMar DeRozan (13,296) and Chris Bosh (10,275) as the only players to score 10,000 points for the Raptors.
Lowry reached that plateau by sinking a 3-pointer for Toronto's first points of the game. He finished with 21 points.
Boston Celtics 106-110 San Antonio Spurs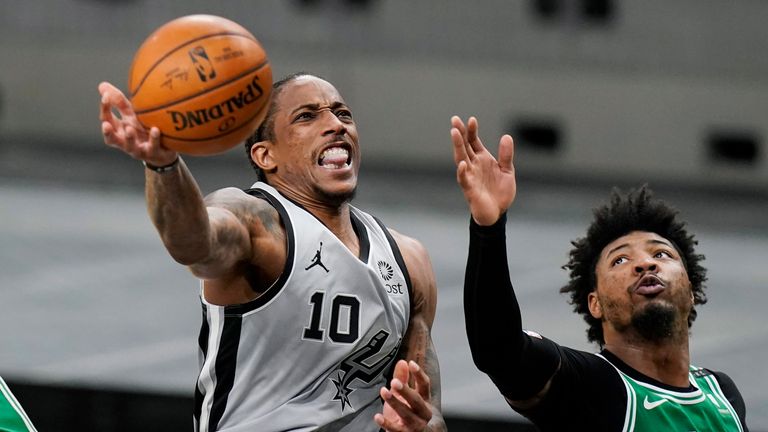 DeMar DeRozan scored 21 points, and a late steal and dunk by Dejounte Murray helped close out the game as the San Antonio Spurs defeated the visiting Boston Celtics 110-106 in a thrilling, back-and-forth tussle.
Murray's steal and dunk with 19.4 seconds remaining gave San Antonio a 107-103 lead, but the Celtics' Jayson Tatum immediately answered with a three-point play to cut the margin to one point with 12.4 seconds left.
Rudy Gay then canned a pair of free throws, and Boston scrambled into a desperation 3-pointer from the corner by Marcus Smart that missed with 2.4 seconds to play.
Gay grabbed the rebound and was fouled, and he hit one of two free throws with 0.2 seconds left to cement the game.
LaMarcus Aldridge added 20 points for the Spurs, with Keldon Johnson adding 18 points and 10 rebounds, Lonnie Walker IV scoring 14 points, Patty Mills hitting for 12, and Murray tallying 11 points and 11 rebounds.
Tatum led the Celtics with 25 points, while Jaylen Brown scored 24, and Marcus Smart and Kemba Walker added 14 points each. It was the first game that Tatum, Brown and Kemba Walker played together this season.
Dallas Mavericks 104-116 Utah Jazz
Rudy Gobert amassed 29 points, 20 rebounds, three blocks and three steals, and Jordan Clarkson scored 31 points as Utah cruised past Dallas in Salt Lake City for its 10th consecutive win.
Fill-in starter Joe Ingles added 21 points, hitting seven 3-pointers, with eight assists and Mike Conley contributed 17 points and six assists for the Jazz.
Luka Doncic led the Mavericks with 30 points while Tim Hardaway Jr. scored 19 and Kristaps Porzingis added 18.
Want to watch even more of the NBA and WNBA but don't have Sky Sports? Get the Sky Sports Action and Arena pack, click here